Verge has been in conversations with Faithbridge Church in Park Rapids MN about reaching young adults in their region, and this past week a couple of the young adults from the church got to come out and observe what Threshingfloor is doing to reach the young adults in the Fargo-Moorhead area.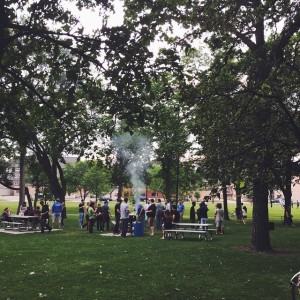 Our Threshingfloor community's summer grill outs have been bringing together around 80 people each week (and growing) and have been an awesome space to meet young adults from the Fargo-Moorhead community and invite them further into relationships where discipleship will take place. If churches in Park Rapids can leverage that same idea to reach young adults there, that's awesome! There's no proprietary information in the kingdom of God. One of my favorite things about the network of ministries that we're developing through Verge is that kind of opportunity for cross-pollination and co-working to make disciples.
As I mentioned in my previous update, Kelly and I are nearly 25% of the way funded. As we've prayed and looked into the future to identify what God is calling us to for the end of the summer it's become clear that I need to move into full time ministry by the end of August regardless of whether or not we've achieved full support. There are too many opportunities awaiting to let money worries keep us from stepping forward in faith.
Will you join us in praying for this last step of the transition to full time ministry? Pray for God's complete provision and for a deeper faith for us.
Also, pray for the numerous people who will encounter Jesus's love through Threshingfloor's summer grill outs and ask Him to move those who aren't believers into faith. Pray for the two Verge Leader Communities that will be taking place at the end of July/start of August.